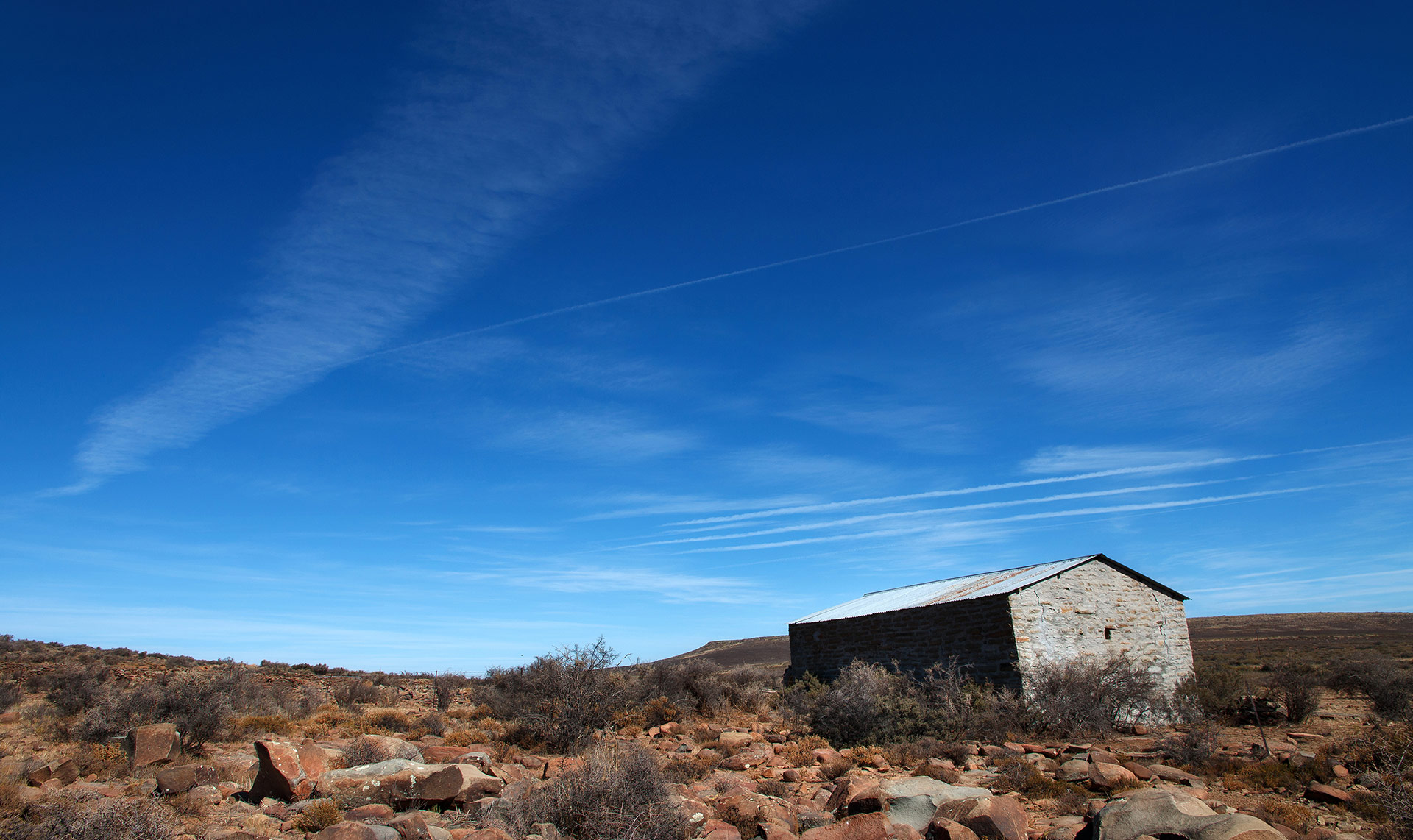 ---
THE LAND. THE PEOPLE. THE HARVEST.
The Great Karoo: It starts somewhere on a mountain ridge on oom Hendrik's farm in the central parts of the eastern Cape and ends on the western escarpment, bordered by the Swartberge in the south and the Namib desert in the north. The Great Karoo covers almost 40% of SA's surface area, straddles four provinces and is the largest plateau of its kind outside Asia. This is the land of vast plains, endless skies and ancient, intriguing rock layers. It captivates tourists, researchers and scientists alike – this 600 million year old piece of paradise.
Less than one million people, 7 million sheep and a million goats inhabit this land larger than the size of Germany. Half of these people are farmers and the other half speedcops.
They say the speedcops and farmers are in cahoots to force travellers to slow down and take a breather en route through the region. Make your own deductions. It is the land of sheep, windpumps, speedcops and bossies. Bossies is the collective name for the succulents, shrubs and grasses found here. These bossies are part of the largest variety of succulents on earth - a larger variety than the total flora variety of Great Britain.
These same bossies nourish the sheep which gives the world-renowned Karoo lamb its distinct, don't-need-anything-but-a-pinch-of-salt-and-pepper flavour. "Spiced on the hoof" is what international carnivorous gourmands call it. And the very same bossies have been used for over a 100,000 years as medicine by the original inhabitants – Khoi and San people - held vast indigenous knowledge that very nearly got lost in modern times.
Long before craft gins became trendy, Louise van der Walt, a native pharmacist began researching the medicinal properties of the bossies. Armed with modern pharmaceutical knowledge, a deep love for the farm of her childhood, stubborn dedication and the help from a few descendants of the first people she picked, squished, chewed, boiled, distilled, extracted, mixed, made paste, made tea, made homeopathic drops, analysed and tested bossie after bossie. Until that one fateful day.
The day she infused a grain-based vodka with a mixed extract of aromatic bossies and served it to her friends. Louise recalls the day as "The day everyone stopped listening about my grand medicinal plans and discoveries to continuously interrupt me to ask for another taste of the gin."
The rest is history (in the making). That's how a quest for medicine created medicine for the soul, a sort of detox for the heart. That's what friends are for. And that is how Great Karoo Spirit's first product, Bossieveld Craft Gin was born. Read about our gins