Great Karoo Spirit's Bossieveld Craft Gin is made from 3 things:
Grain based vodka.
Juniper berries, and other traditional gin botanicals such as: Coriander, Camomile, Lime, Orange peel, Lemon peel, Orris root, Angelica and Cassia bark.
Wild Karoo botanicals – Karoo Bossies.
Okay, okay, we hear you. All proper gins need the first two - we know. The distillation process makes a base vodka that is superior in taste and super smooth in delivery – no contest. Zazdarovje, comrade. Redistilling the base vodka with juniper berries is what makes it a gin after all – dat weet je ook. Up to there, even with us being totally fusspot perfectionist about the quality of the ingredients and purity of the process, it's just a very good gin.
Number three is our coup de grâce, of course. Louise's intimate knowledge of fragrant Karoo bossies results in a botanical infusion of completely unique bouquets and flavours. Distilling Louise's furtive blends of bossies (making that Yankee colonel's secret blend seem, well, chicken hearted) into the gin creates a kaleidoscope of aromas and tastes so complex that it cannot be described easily. Even connoisseurs have trouble with this. Every person experiencing a few drops of Bossieveld Craft Gin will instantly be teleported to his or her most vivid Karoo memory. It's crafted with a lot of heart, from the heart of the Great Karoo.
Hand harvested by local people across various regions of the Great Karoo, the essence extracted from the bossies vary immensely – as the regional names that varies over every set of mountains, the soil, seasonal rainfall, elevation all influence every bossie, every year.
Bossieveld Craft Gin is invigorating and free-spirited, just like the people and the land it hails from. It is nostalgic and wistful – like the people and the land it hails from. To some it is crushing a bossie barefoot after an early morning rain, to some it's looking up at the crystal clear Milky Way on a summer's night. We can't explain it either. You just have to live it. Great Karoo Spirit's Bossieveld Craft Gin is made from 4 things, actually:
Grain based vodka.
Juniper berries and other traditional gin botanicals.
Wild Karoo Botanicals - Karoo bossies.
A whole lot of heart.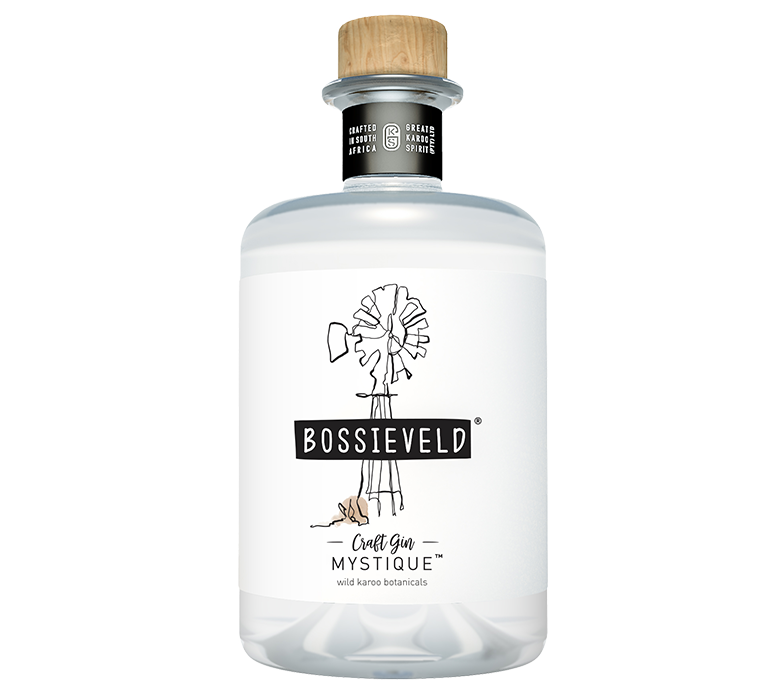 Mystique
aka Vlakhaas

---
It's a great Mystique of the Great Karoo: how the modest Karoobossie can yield such richly aromatic botanicals. They grow nowhere else on earth but in this arid soil of the Bossieveld, and imbue the mutton of the sheep that graze here with a sought-after fragrance. These bossies (little bushes) impart their sensuous scents to the meticulous distilling and blending of the Mystique inside this bottle of gin.Karoobossies are many and varied, each with its own regional accent of aromas. By combining extracts of plants from selected parts of the vast Karoo Bossieveld plains, the Mystique begins. It is when these local essences complement the traditional gin botanicals, that the mysterious process starts to draw to its unforgettable conclusion: a powerful, aromatic culmination of sweet fruit and angelica on the nose, and a wildly unexpected explosion of vanilla ice-cream on the palate!
Bossieveld Gin is not for sale to persons under the age of 18.
---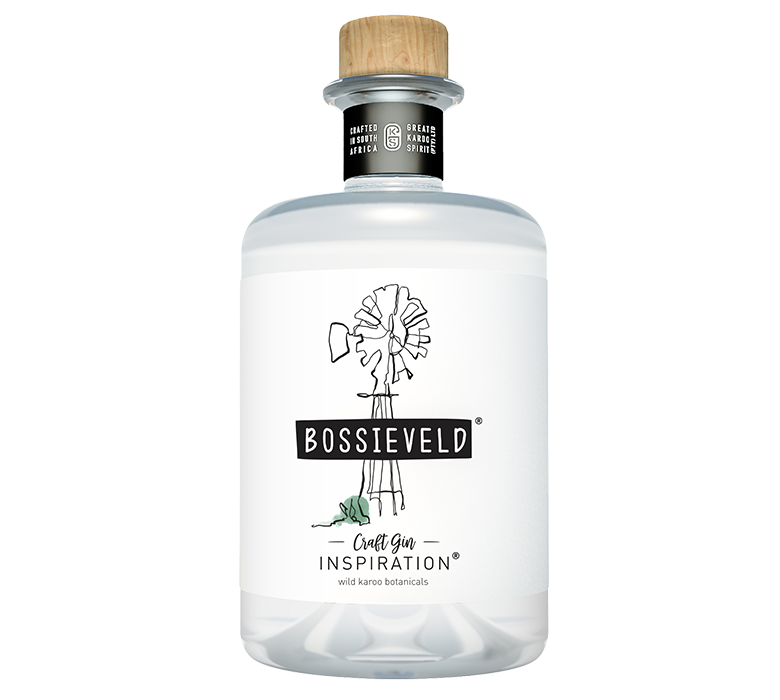 INSPIRATION (New Edition)
aka Meerkat

---
This hand-crafted gin is delightful proof that great Inspiration comes from….Karoobossies. These hardy fragrant bossies (bushes) grow only on the semi-desert Bossieveld plains of the Great Karoo, scenting the air with their humble yet generous presence. Sheep favour the flavoursome shrubs for taste and nutrition, making the Karoobossie-imbued mutton a prized delicacy. In Bossieveld Inspiration, precious botanicals, meticulously extracted and blended from these aromatic bossies, complement a bouquet of traditional gin botanicals such as juniper, coriander, chamomile, lime, orange peel, lemon peel, orris root, angelica, and cassia bark. The happy result is the truly inspired character of this gin – an incredible, subtly layered finish that is unlike anything you have ever savoured.
Bossieveld Gin is not for sale to persons under the age of 18.
---