Great Karoo Spirit's Bossieveld Craft Gin is made from 3 things:
Grain based vodka.
Juniper berries, and other traditional gin botanicals such as: Coriander, Camomile, Lime, Orange peel, Lemon peel, Orris root, Angelica and Cassia bark.
Wild Karoo botanicals – Karoo Bossies.
Okay, okay, we hear you. All proper gins need the first two - we know. The distillation process makes a base vodka that is superior in taste and super smooth in delivery – no contest. Zazdarovje, comrade. Redistilling the base vodka with juniper berries is what makes it a gin after all – dat weet je ook. Up to there, even with us being totally fusspot perfectionist about the quality of the ingredients and purity of the process, it's just a very good gin.
Number three is our coup de grâce, of course. Louise's intimate knowledge of fragrant Karoo bossies results in a botanical infusion of completely unique bouquets and flavours. Distilling Louise's furtive blends of bossies (making that Yankee colonel's secret blend seem, well, chicken hearted) into the gin creates a kaleidoscope of aromas and tastes so complex that it cannot be described easily. Even connoisseurs have trouble with this. Every person experiencing a few drops of Bossieveld Craft Gin will instantly be teleported to his or her most vivid Karoo memory. It's crafted with a lot of heart, from the heart of the Great Karoo.
Hand harvested by local people across various regions of the Great Karoo, the essence extracted from the bossies vary immensely – as the regional names that varies over every set of mountains, the soil, seasonal rainfall, elevation all influence every bossie, every year.
Bossieveld Craft Gin is invigorating and free-spirited, just like the people and the land it hails from. It is nostalgic and wistful – like the people and the land it hails from. To some it is crushing a bossie barefoot after an early morning rain, to some it's looking up at the crystal clear Milky Way on a summer's night. We can't explain it either. You just have to live it. Great Karoo Spirit's Bossieveld Craft Gin is made from 4 things, actually:
Grain based vodka.
Juniper berries and other traditional gin botanicals.
Wild Karoo Botanicals - Karoo bossies.
A whole lot of heart.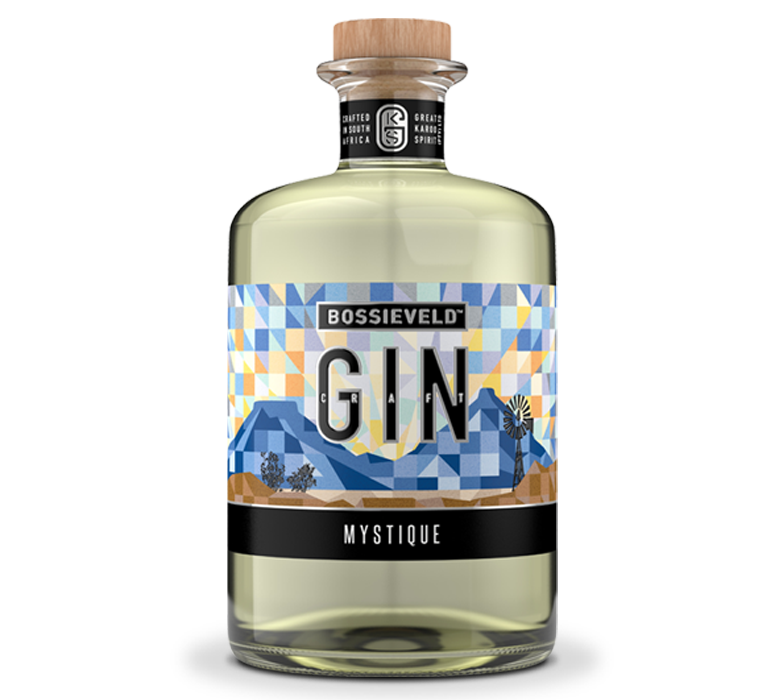 Mystique
aka Vlakhaas
---
Mystique is fresh. For Louise, Mystique calls up early mornings with hot Koffiehuis coffee and aniseed rusks. She says it is a family of sparrows chattering in the bluegum tree with the sun just starting to peek over the Bobbejaanberg. The gin is juniper driven with hints of citrus and floral notes. Herbal notes are accentuated by the Wild Karoo botanicals which also adds the 100% natural colour.
---


INSPIRATION (New Edition)
aka Meerkat
---
Inspiration is sultry. Louise says to her Inspiration reminds her of warm summer evenings under the stars. And of a soft breeze through the bluegum trees and candle-light calling from inside open windows. It is also the fragrance of late afternoons after a long, hot day and sunset colours when the deep indigo melts into warm red and orange. This gin is distilled with traditional gin botanicals and complemented by a selection of Wild Karoo Bossie botanicals. Traditional botanicals include: Juniper, coriander, chamomile, kaffir lime, orange peel, lemon peel, orris route, angelica, and cassia bark. The gin is juniper driven with hints of citrus and floral notes. Wild Karoo botanicals subtly accentuate herbal notes and adds a truly amazing finish and completeness to the gin.
---